DataMover SS
Now available in:
902-928 MHz ISM Band
2.406-2.482 GHz ISM Band
Technical Information
The SIMREX DataMover SS-900 and SS-2.4 utilize FHSS (Frequency Hopping Spread Spectrum) in the ISM Band of 902 – 928 MHz or 2.406-2.482 GHz to provide reliable long range data transportation at up to 115.2 kbps. The DataMover SS provides transparent data communications for nearly all SCADA/Telemetry and EFM protocols including MODBUS.
Any SIMREX DataMover SS may be configured as a repeater extension. This allows store and forward data operation to extend the operating range of the network. Mulitple repeaters may exist at any level of the network preventing a single radio failure from disabling the entire network. There is no limit to the number of repeaters which may be used.
Why consider an DataMover SS solution?
High system performance and data integrity! Robust construction, digital signal processing (DSP) technology with self-equalization, automatic CRC/ARQ and powerful forward error correction.
Flexibility and rapid installation! Quick return on investment due to plug-and-play installation. License-free radio design with the ability to communicate with any asynchronous protocol without extra software or additional programming.
Performance under the most adverse conditions! Robust design provides excellent performance in the face of interference or difficult signal paths.
Small footprint! Exceptionally small design allows installation inside RTU or PLC housing.
SIMREX network-wide diagnostics software simplifies tasks and reduces the cost of managing the network infrastructure by eliminating trips to the field. Provides a non-intrusive means of maintaining link and radio network performance.
Flexible interfaces! All DataMover SS come equipped with RS-232 for direct connection to most RTU/PLC's and RS-485 for multidrop environments.
Low Power Consumption! Sleep mode for extremely low power consumption requirements - typically draws 3 mA - yet still recovers quickly for fast access to your critical data.
SIMREX DataMover SS is the price/performance leader; offering flexibility and reliability for both point-to-point and point-to-mulitpoint requirements.
Features
High Speed Throughput – 115.2 Kbps
Unparalleled Robustness – Forward error correction, CRC/ARQ, multiple resends
Industrial grade – Extended -40° C to +70° C temperature range for trouble free operation in extreme environments
Sleep Mode – ~ 3mA, ideal for solar power applications
Store and Forward - with self-healing networks
Network wide diagnostics – Central network control without the need to visit sites
Market Applications
SCADA
Tested and approved to work with Schweitzer Engineering Laboratories (SEL) Mirrored Bits™
Industrial Automation
Process Control
Gas and Oil Exploration, Production and Transportation
Water, Gas and Electric Utilities

Specifications
-----------------------------------------------------------------------------------------------------------------------------------------------------------------
Data Characteristics | Transmitter | Receiver | Connectors | Environmental | Physical | Operating Modes | Network Management | Agency Approvals | Configuration Diagrams
Data Characteristics
Interface:
RS-232/RS-422/RS-485 (User Selectable)
Usable Throughput:
115.2 kbps
Port Speed:
300 to 115200 bps
Power Output:
(user selectable)
SS-900: .1 W (20dBm) to 1 Watt (30 dBm) at 6Vdc to 30 Vdc,
SS-2.4: .1 W (20dBm) to .5 Watt (27 dBm) at 6Vdc to 30 Vdc
Modulation:
CPFSK
Receiver

Sensitivity:


-108 dBm (1 x 10-6 BER) typical

Error Detection:
CRC16; Resend on Error
Interference Avoidance:

64,000 hop patterns selected automatically via network address
FEC, CRC/ARQ and/or Multiple Packet Transmits
Excellent Strong Signal (interference) Characteristics
Band Segmentation for Friendly Coexistence with Other Services such as LMS

Connectors
Power and User:
2 Pin Phoenix, DB-9, RJ11
RF:
TNC
Environmental
Humidity:
< 95% RH (Non-Condensing)

Temperature Range:

-40° C to +70° C
Current Consumption:
Mode
30 Vdc
13.8 Vdc
6 Vdc
Transmit
236 mA
510 mA
1.18 A




Receive
51 mA
100 mA
155 mA
Sleep Mode:
3 mA typical
Input Power:
6 to 30 Vdc
Dimensions:
(approx. 3.5 D x 5 W x 1 H inches)
(approx. 8.9 D x 12.7 W x 2.5 H cm)
Operating Modes

Point-to-Point:
Full Duplex (57.6 kbps) TDD
Point-to-Multipoint:
Master
Remote
Repeater Extension (Store-and Forward) - Unlimited
Repeaters; Self-healing Networks
Network Management
Diagnostics
Centralized network control eliminates site visits
Create store-and-forward configurations
Compatible with Other SIMREX DataMover Products
SIMREX Siteview

Agency Approvals

FCC:
Part 15 Approved
IC:
Approved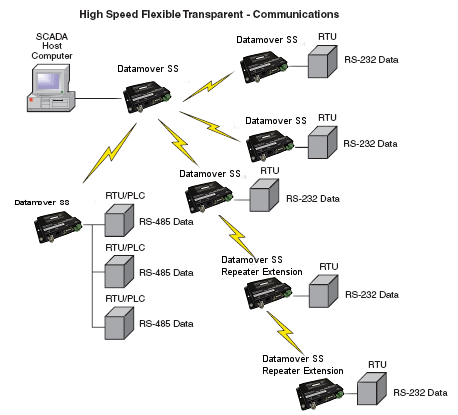 ------------------------------------------------------------------------------------------------------------------------------------------------------------------

SIMREX DataMover products are manufactured under a quality system certified to ISO 9001. SIMREX reserves the right to make changes to specifications of products described in this data sheet at any time without notice and without obligation to notify any person of such changes.
Copyright 2004 SIMREX Corporation (DataMover SS)